Greetly is the incredibly customizable digital visitor management system.
Save your ADMINutes! Administrivia is the bane of every office. Simplify your workplace. Let Greetly greet visitors and accept deliveries so you can GET MORE DONE!
Greetly is the incredibly customizable digital visitor management system. Greetly's reception management software will check in visitors, receive food and package deliveries, execute NDAs, register event attendees and so much more. Greetly sends instant reception notifications. Packed with features yet simple to set up and use. Greetly will become your office's favorite productivity tool.
EASY PEASY
You come to work to solve interesting problems. To make peoples' lives better. Not to get bogged down receiving Bob from accounting's lunch order. Let Greetly do it. With Greetly, the visitor registration process is quick and easy. And dare we say… FUN!
YOUR DIGITAL RECEPTIONIST
Greetly is a 100% white-labeled electronic visitor sign-in app. Guests see only your logo and brand color. Imagine what your visitors will say: "Wow, your company is really high-tech, we are impressed by your virtual receptionist app". Launch Greetly today and make every day Happy Administrative Professionals Day.
INCREDIBLY CUSTOMIZABLE
Require visitors to sign an NDA? Greetly's check-in app has got ya' covered - it doubles as an eSignature app. Need event registration software? Voilà, you know who is in da'house. Lots of package deliveries? Done. Secure facility? Greetly can take a photo of every visitor and print visitor badges so visitors are recognized at a glance. Want to change the verbiage to reflect your brand? It's a matter of seconds.
TONS OF INTEGRATIONS
Make managing your host list super easy with our Microsft Active Directory and cloud-based Azure AD integrations. Receive real-time notifications through Slack. And connect Greetly to almost every app you use around the office with Zapier. This includes coworking member management apps essensys Operate, OfficeRnD, Optix, and Cobot.
UNLIMITED VISITORS AND RECEPTION USAGE
The Greetly iPad sign-in app proudly provides digital visitor management to organizations ranging from tech startups to non-profits to global corporations. Did we mention that coworking spaces love our software? No matter how big or small your employee base is, Greetly's iReceptionist offers unlimited visitor registrations and instant check-in notifications.
INSTANT NOTIFICATIONS
Greetly sends instant reception notifications to employees via voice calls, text messages, email, Slack, Teams, or Chat notifications. Employees get to choose which eReceptionist notifications they want to receive. Whatever the preference, Greetly works fast… There it went.
HABLA ESPANOL. ET FRANÇAIS. と日本語.
Make your lobby experience comfortable for guests. Allows visitors to check in with the language of their choice. Greetly's front desk sign-in app can be used in unlimited languages.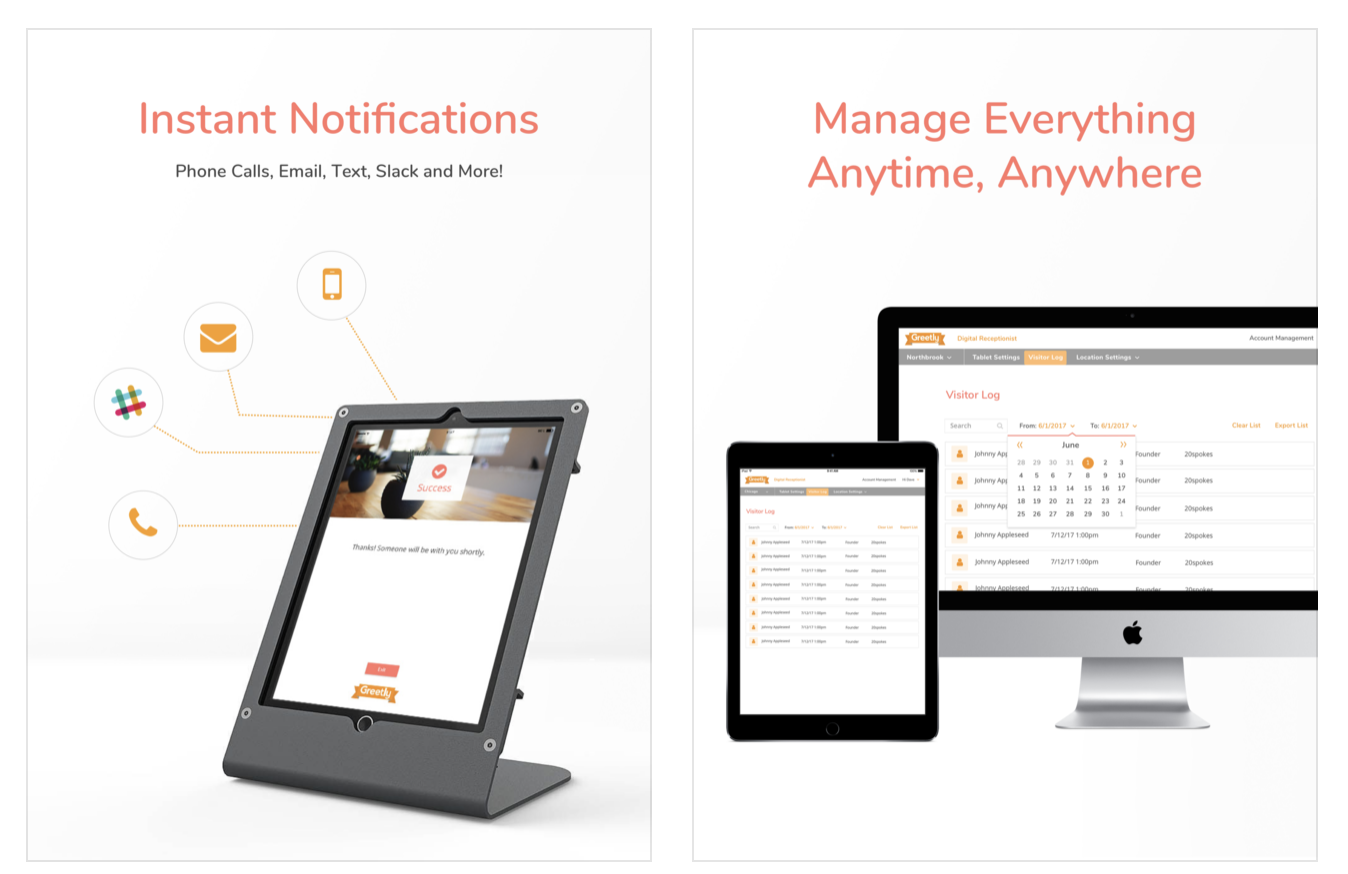 DIGITAL VISITOR LOG
Want to contact visitors to thank them for coming? Did something go missing? Need to know who was onsite during an evacuation or drill? Greetly's customer check-in app includes a secure cloud-based visitor log. Access, view, and download your visitor list anytime, anywhere.
PAIR WITH GREETLY · DIGITAL MAILROOM · PACKAGE LOG
Need even more efficiency? Use the same employee database to power our sister product - mailroom and package log. Send instant package delivery notifications with photos. Take the long, boring task of managing a mailroom and get'er done in minutes.
Try Greetly today and modernize office reception.