Below are Greetly's product improvements pertaining to enhancements and fixes which have been released by our development team for June 2023.

Web Release - June 2023
June 2023 Web Updates:
1). Multi-language feature (Language Settings)
The English (default) translation should be kept from being edited.
To add a new language, enter the language name and click the "Add" button.

To select a language to be edited, click the "Use" button.
A user can't delete the language which is currently in use. To delete, a user should switch to another available language and click the "Trash" icon next to the language he will delete.
2). Custom Form Fields Translation
To edit Custom Forms fields, go to the "Customize custom form field labels".

A user can translate all default/custom fields across ALL custom forms.
The fields are divided into Default (fields without description: Text, Date, Time, Number, Rating, Range)

and Custom (fields with a Description and multiple answers - Header, URL, Checkbox, Radio button, Dropdown).

Form name corresponds to the name of the Custom Form where the field is located.
There is a placeholder to see an English (default) translation.

A user can also hover over the field name to see the English (default) translation.= when typing.
To apply changes, click the "Save" button.

3). GDR multi-language updates (Coming Soon)
Icon change (GDR is not pushed to Prod yet, but Visitor Web (See live) is available)

The translation should be applied on the Welcome screen first. If a visitor wants to change the language, he needs to return to the Welcome screen and change the language.
4). Visitor Log Updates
A unique ID column is added to the Visitor Log.

To display the column, hit the "Reset" button first.

Once reset, the ID column will show up in the Columns Menu

3. Scheduled Reports and Filters Popups in the Visitor Log are no longer overlapped with the Emergency Evacuation Popup.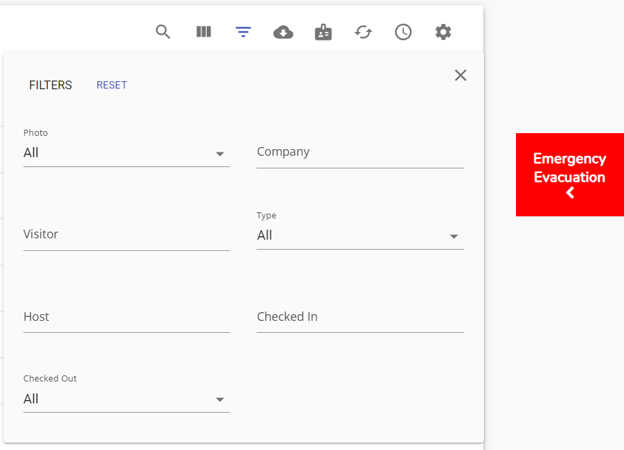 If you have outstanding issues or any new issues with the Greetly Digital Receptionist app or with your Greetly web portal, please feel free to contact us at success@greetly.com, and one of our friendly and helpful support agents will create a ticket for your specific issue. If they cannot provide you with a solution, the issue will be escalated to someone from our Tier 2 or Tier 3 support team.
You can search our Knowledge base Articles (FAQs) here.
Please also check for updates to the Greetly Digital Receptionist App regularly to ensure you can utilize the latest functionality.