How Can I see my payment history?
Need to view your payment history for your organization's Greetly visitor management system account?
Do you need to view your payment history?
***Please note that you must have Global Admin access to the account in order to view billing details.***
Step 1:
Start in Greetly's web-based admin (https://app.greetly.com/)
In the top-right corner of the screen, hover over "Hi [your first name]"
Select "Subscription/Billing"


Step 2:
In this section, you'll be able to view your current plan, payment history, and billing settings (it will display the last 4 digits of the credit card we have on file).
Note: You will NOT be able to download receipts.
Click on "History" to view your monthly/annual payments
Need to update your credit card information? Click on "Billing Settings" and you'll be able to update your card information.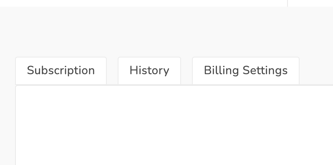 If you need a copy of your receipt, email us at: success@greetly.com and we will be happy to assist you.