Greetly works with...
Greetly is the highly configurable check-in app for business and events. Even better, getting started is easy. There are no setup costs or technical skills required.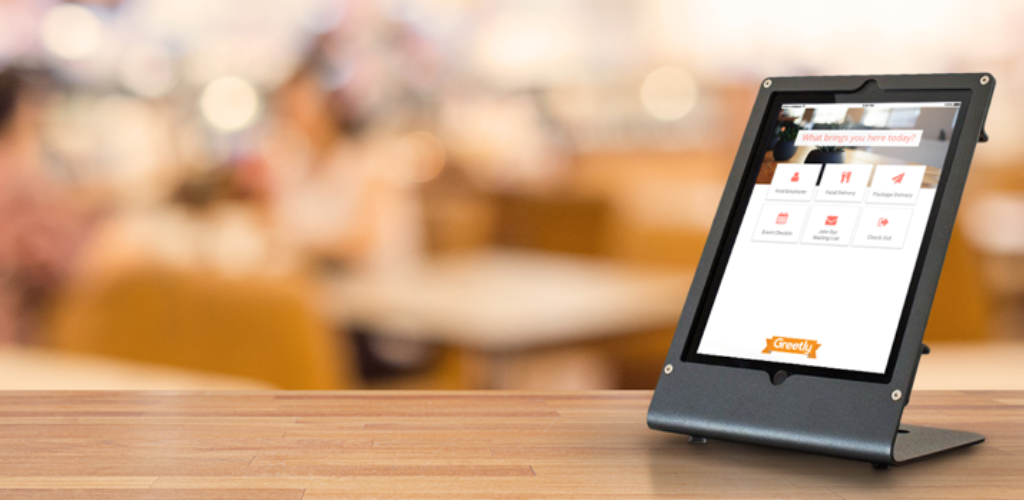 Note: Greetly does NOT sell hardware.
Tablet Device
Greetly works with:
Apple iPads (iOS). To use Greetly's latest features, we recommend using, Apple iPad Air 3rd Generation or newer or an Apple iPad Pro (iPad iOS 11.0 or later).


Greetly will also function with most Android tablets (Android 10.0 and up).
If you want to know whether a specific model works, please email success@greetly.com with the manufacturer and model number.


Greetly recommends having the following minimum specs when using our Thermal scanning feature. iOS 13,x or above (Android 10 or above) , 1.8 Ghz and 3GB RAM. USB-C if you are considering using Thermal temperature scanning, in future.
You can purchase any of these devices on Amazon, Best Buy, Walmart, etc.
The only other required
check-in app hardware
is a mount to make sure your tablet is secure and highly visible to visitors. Your selection will depend on your lobby area, available space and cost. Standard options include:
Desktop stand
Floorstand kiosk
Wall mount
All options are readily available for every iOS and many popular Android tablets. If you need assistance in selecting the right hardware for your reception area, please contact us or click here to be directed to Heckler Design's website.
Visitor Badge Printer (Optional)
Not only can Greetly capture visitor photos, but it can also print visitor badges. If you implement this option, Greetly is compatible with the Brother QL-820NWB printer and with DK-1202 labels. IMPORTANT: The sample labels shipped with the Brother printer are DK-2205. The printer will not respond unless the correct labels are used. <-- Click here to read more on badge printing.
Setting Up Your Greetly Account
Setting up Greetly is a piece of cake. Even though Greetly's visitor registration app is highly configurable, no technical skills are required. Click here to read on how to set up your account.
If you ever need assistance, please contact us.