This knowledge base article will walk you through the steps on creating a basic workflow for your visitors to check-in.
Important Notes:
To activate this feature, you'll need to email us your request at, success@greetly.com
This feature will ONLY work on our latest Greetly Touchless Receptionist app version. Don't have the latest app version? You can download it from the Apple or Google Play Store.
You'll need to be logged into your web portal as a Global or location admin.
You can ONLY create workflows for custom check-in buttons. (Example: You cannot create a workflow for default check-in buttons such as Visit Employee, Package delivery, Employee Check-in, Food delivery, Digital Mailroom, or Event Check-in).
You can create different workflows for each custom check-in button.
The workflow will default to the original format for a custom check-in button. If you want to stay with the default workflow you can follow the steps on how to create a custom check-in button in this knowledge base article.
You cannot use the default questions and New (beta) workflow for a check-in button at the same time.

Here's an example of a basic workflow: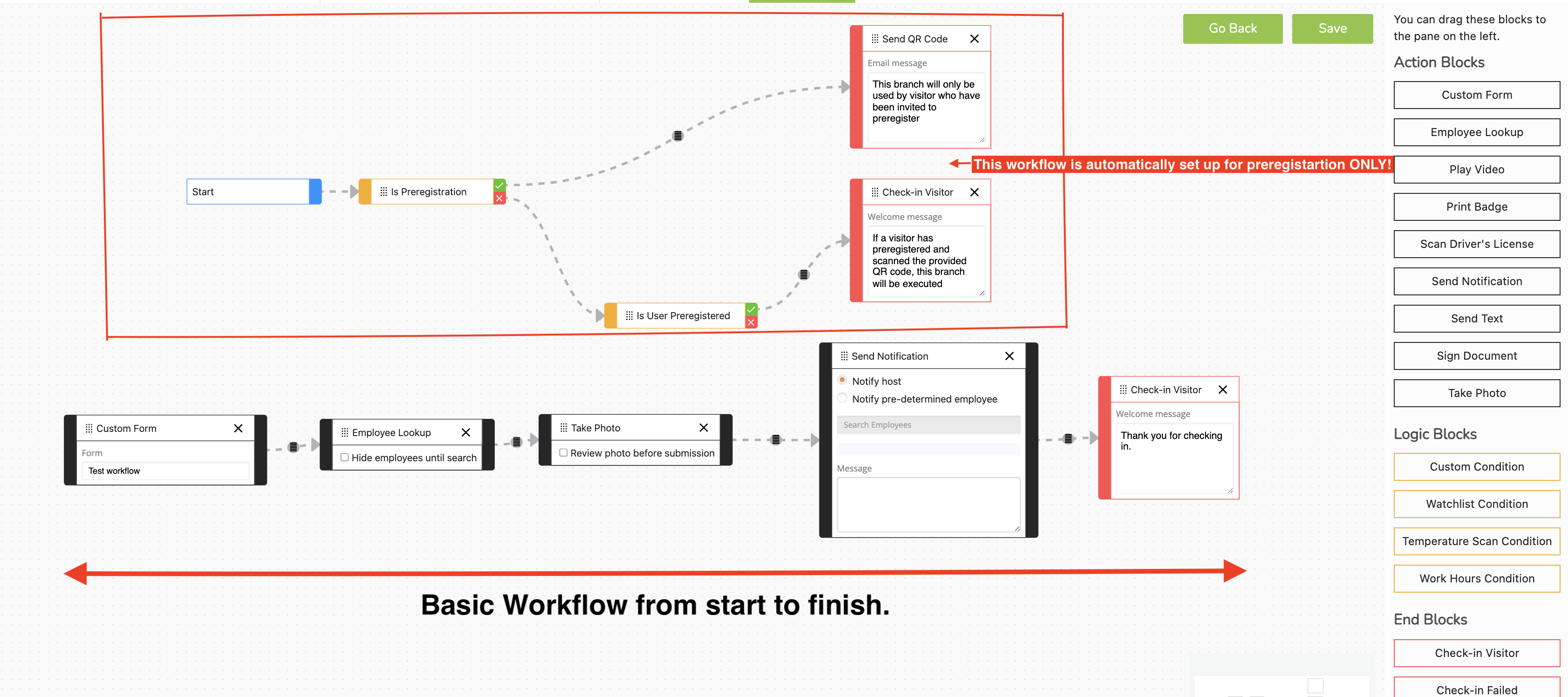 To add a workflow to a check-in button follow these steps:
Click on "Location"

Click on "Create new" in the Workflow Fields section
Note: You can create custom questions that will be used in the Workflow form (ie: Have you been exposed to anyone with Covid, Do you have a fever, etc).


Create your custom questions in this section and click on "Create"
Example image below:




Click on "To check in options"





Scroll down and click on

"Add a Custom Button"
8. Name your custom button and click on "Publish"
9. In the "Workflows" section, click on "New (beta)" and click on Create Workflow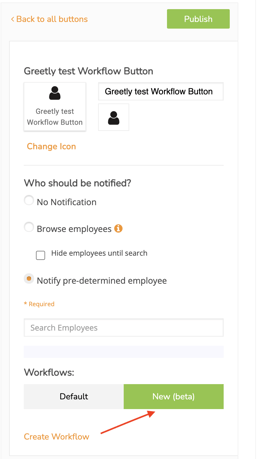 10. This is how the Workflow page will look when you click on it: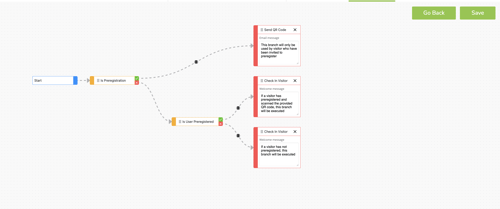 11. Select "Custom Form" for your first block and drag it to the pane.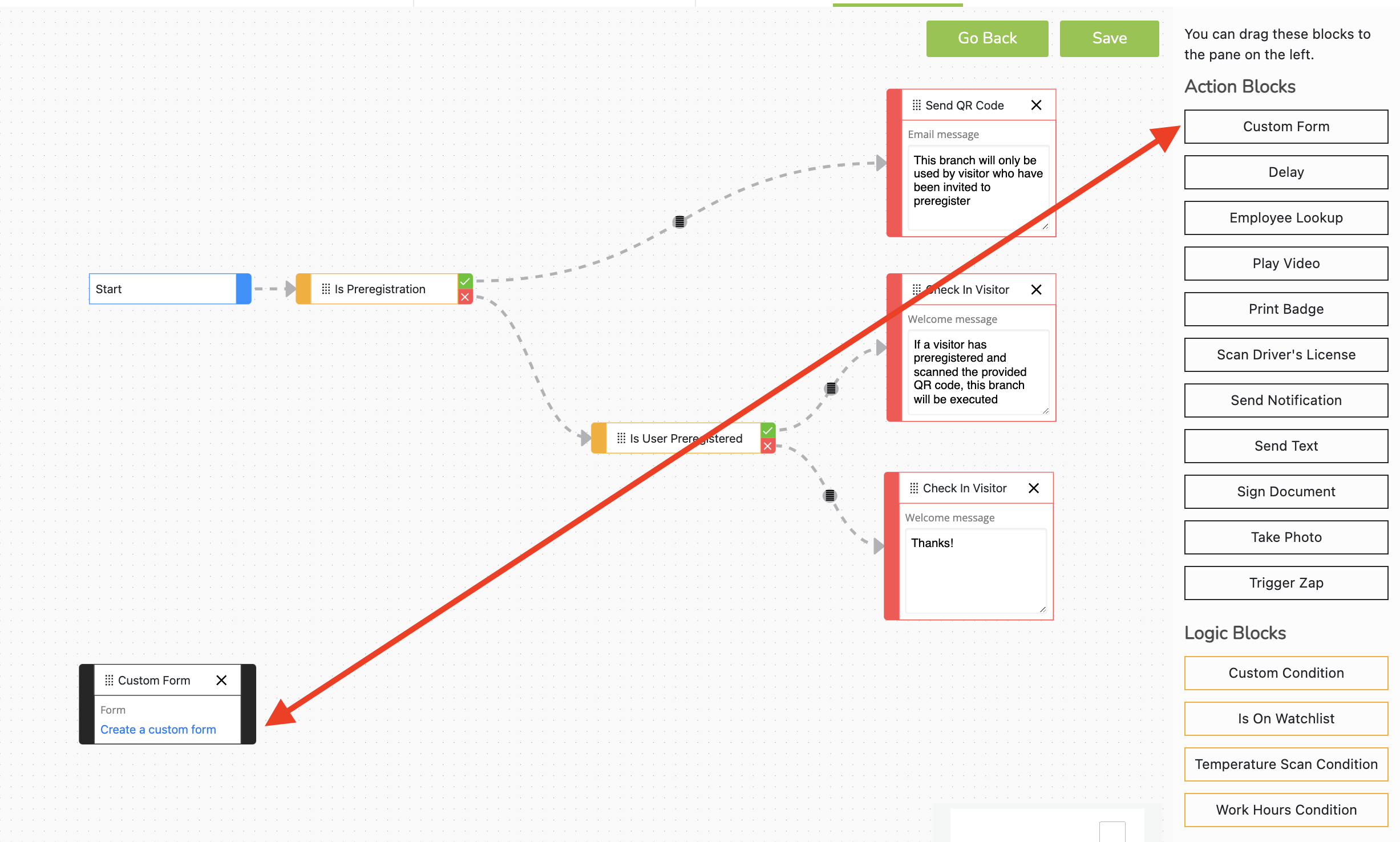 12. Create your custom questions inside the form. Click on "Create a custom form" inside the Custom form block.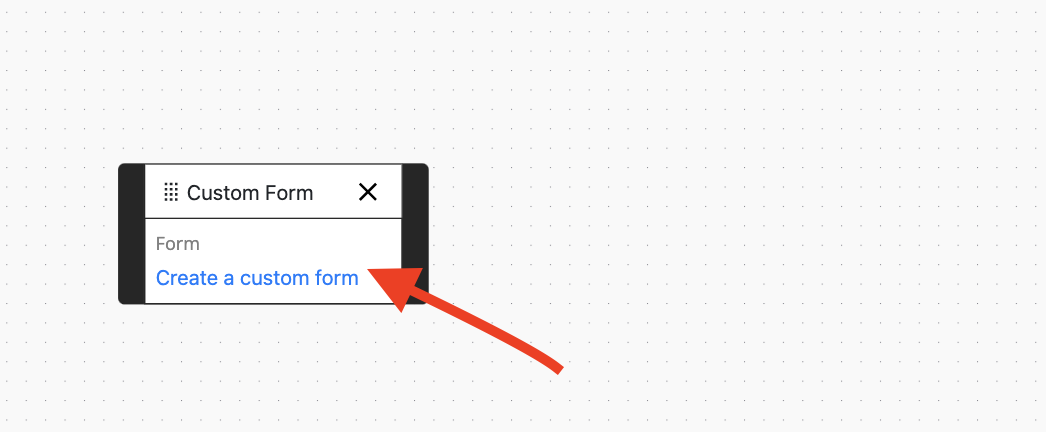 13. Name your Workflow form.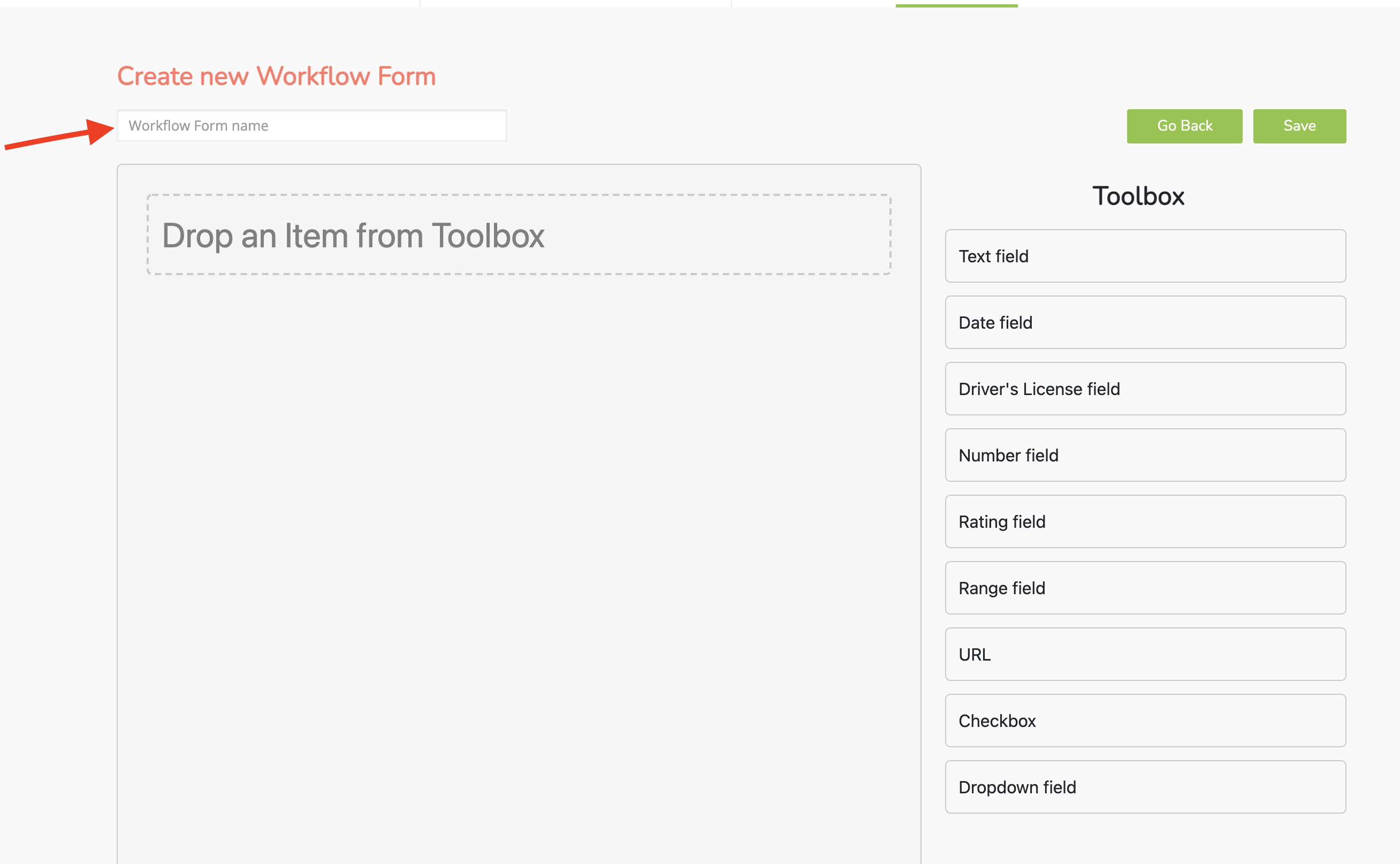 14. Select and drag items from the Toolbox section and drop it in the workflow section. Don't forget to click on "Save".
Note: The custom questions you created in the Workflow field will be displayed in the dropdown section. *(Steps 4 & 5).
See example below: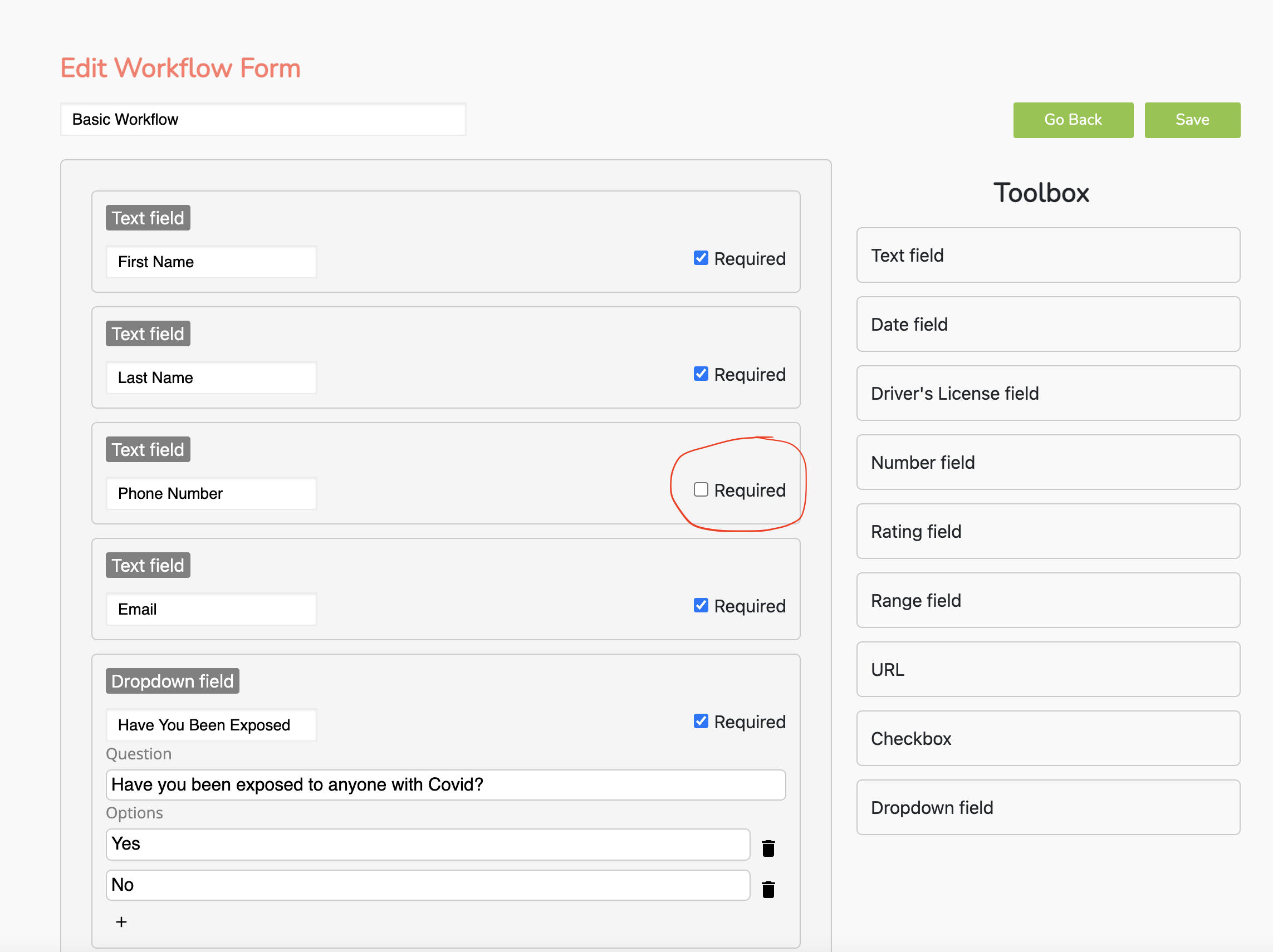 Note: If you don't want a particular question to be required during check-in, uncheck "Required" next to the question. The question will NOT be displayed on the app during check-in if this is unchecked. You can change the order of the questions by selecting the block and moving it to the appropriate location. Need to delete an item? Click on the trash can symbol next to the item.

15. Select and drag the item from the Toolbox section.
Example: Text field section- Select from the default dropdown questions.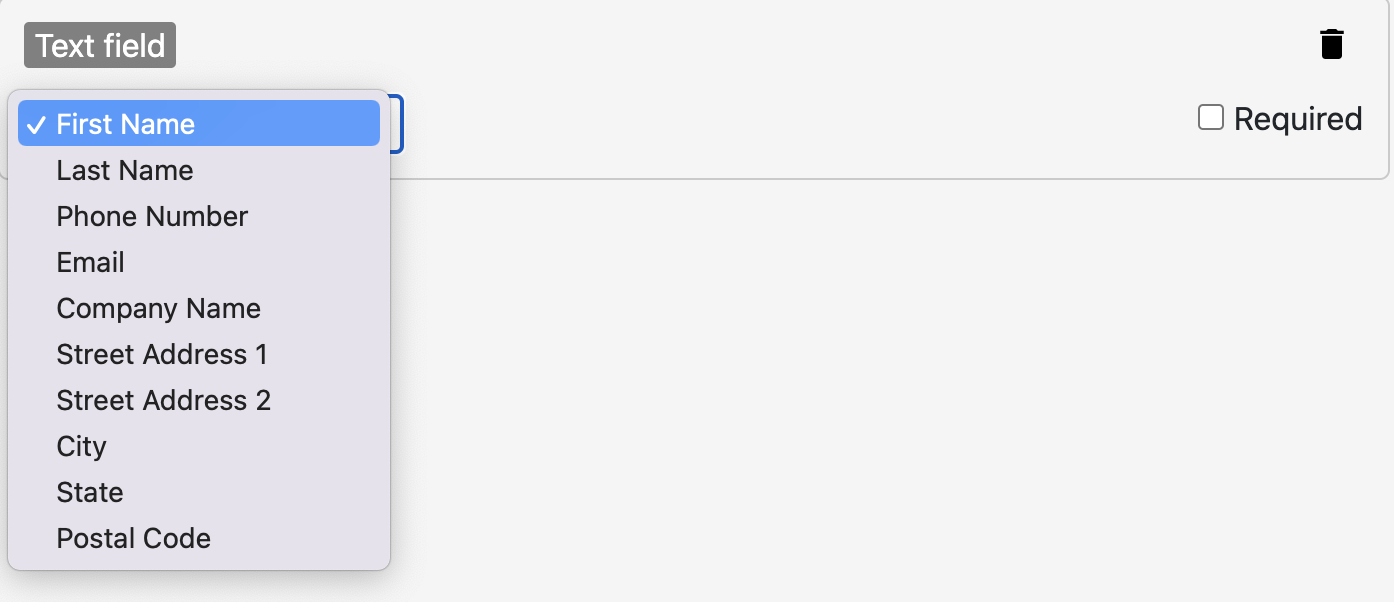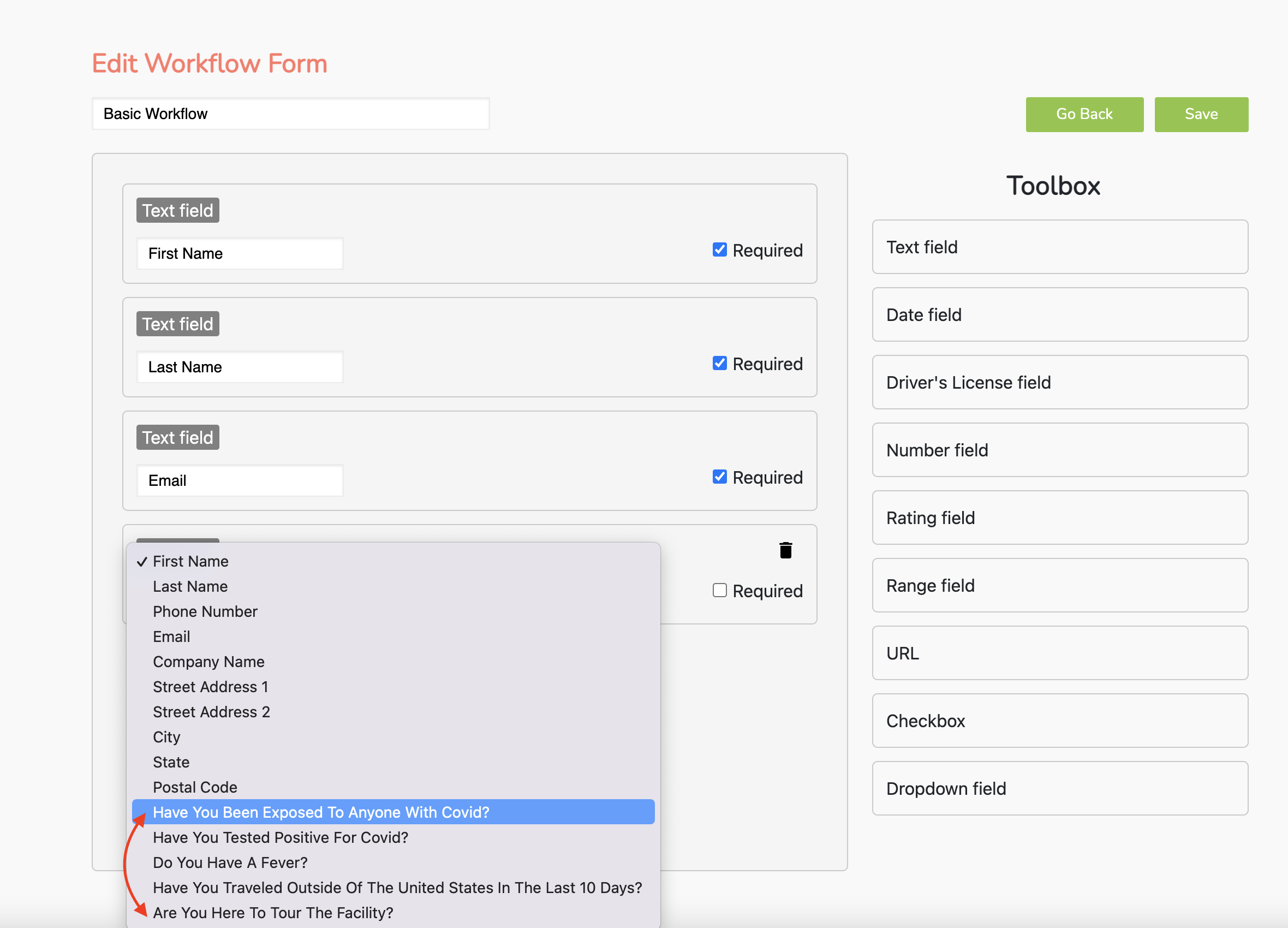 Now you are ready. Let's create your basic workflow! 😀
Go back to your custom check-in button, scroll down to Workflows and select "New (beta)" and click on Create Workflow.


Click on the "X" to delete the check in visitor block and Select "Custom Form" for your first block and drag it to the pane.


Connect the "Custom form" block to the "X" section of the "Is the user Preregistered".


Select your blocks from the "Action & Logic Blocks" section and drag them to the pane one by one.
Note: You can't connect any of the End Blocks in between any of the other blocks. All end blocks must be used last.
When connecting your blocks:
Blocks should be lined up horizontally (from left to right).
Connect the block from the right side to the left side of the next block.
Make sure each arrow connecting the blocks is flowing to the right --->
Make sure you add and connect an End block at the end of your workflow and click on "Save".


The workflow fields questions (Example: Name, email address, phone number, custom Covid questions, etc.) inside the custom form block will populate during the visitor's check-in, followed by any other blocks you add in your workflow.
Workflow blocks example:
Employee lookup block- During the check-in, a visitor will have the option to look up the employee they are visiting, or they will have to type in the first letters of the employee's first name if "Hide employee until search" is checked.
Send notification block- Visitor notification will be sent to the employee/host or the predetermined employee if this field is selected.
Send text block- A customized check-in text is sent to the visitor during or after check-in is complete.
Click here to see a complete list of the Workflow Action Blocks
Don't forget to click on "SAVE".
Note: Your workflow will not save unless you connect an end block at the end of your workflow.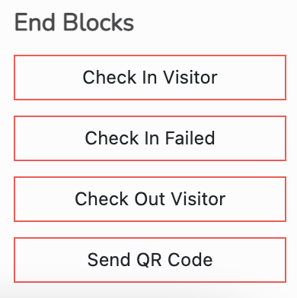 6. After you click on "Save" in the Workflow, you'll be brought back to the check-in button. Make sure "New (beta)" is selected and click on "Publish".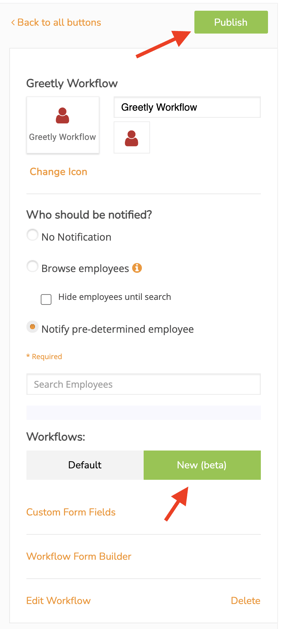 All done.
Great job! 😆👍
Still, need help? It's okay. We are here to help you. Email us any day, anytime.