The following list of troubleshooting steps contains everything you need to get your badge printer working with Greetly!
*Please note that Greetly works with the Brother printer models QL-820NWB or QL-820NWBc and with DK-1202 labels.
(outside of US they are called DK-11202 )
IMPORTANT: The sample labels shipped with the Brother printer are DK-2205. The printer will not respond unless the correct labels are used. <--
Below is a list of troubleshooting steps you can try to get your printer up and running with Greetly's award-winning visitor management system!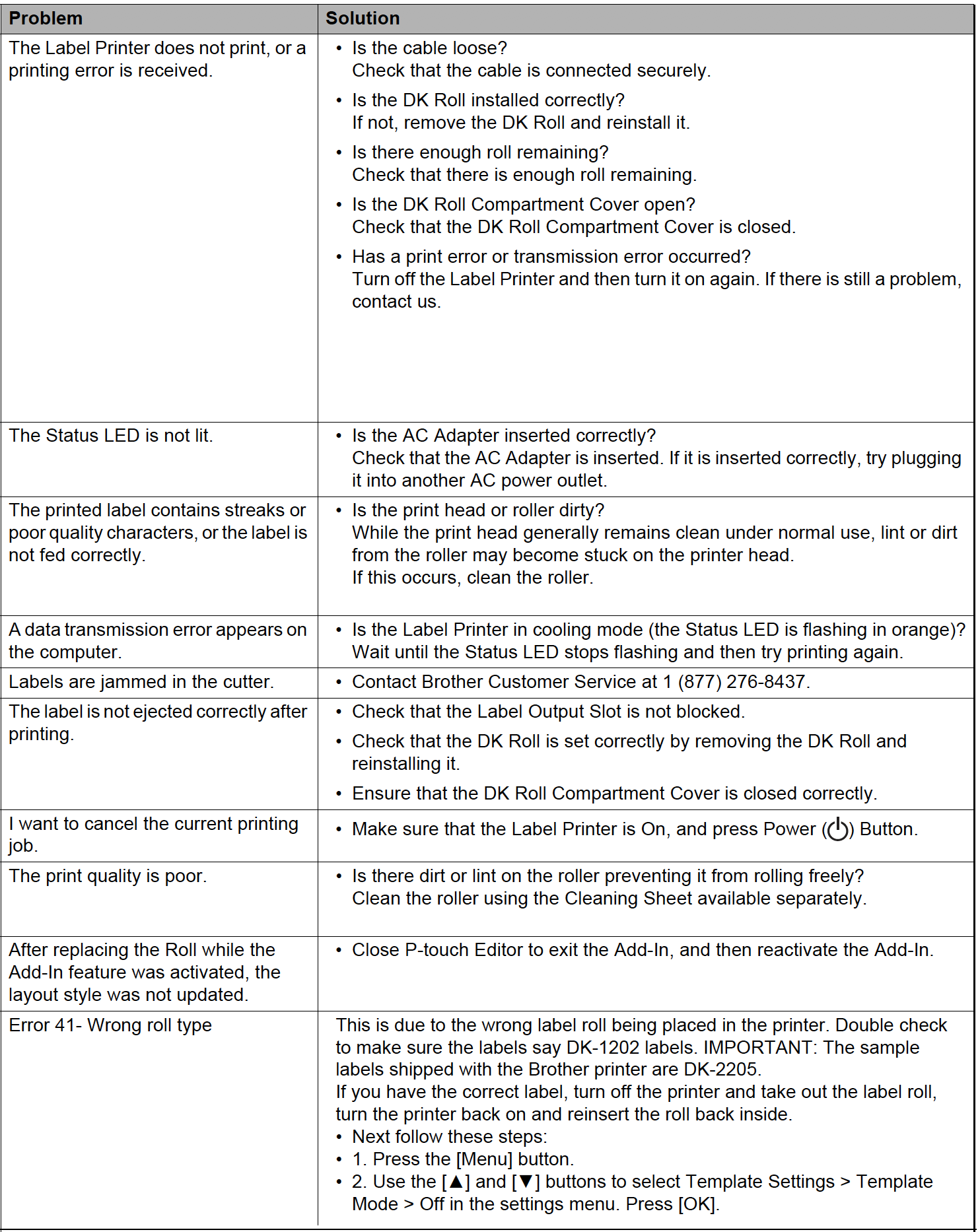 ---
Are you getting any of these error codes?
Following are all the available Brother Printer error codes:
-3 Timeout request
-7 Request to make a stream failed.
-8 Request to open a stream failed
-9 Listed file does not exist.
-10 Listed page range exceeds the maximum.
-11 Printer model is different
-12 No Brother printer found
-13 No paper
-14 Inadequate battery level
-15 Printer status retrieval failed.
-16 Overheating error
-17 Paper jam
-18 Adapter is high-voltage
-19 While printing, replace the paper cassette
-20 Paper ended or Feeding error
-21 System error
-22 No paper cassette found during a printing operation
-24 Request to create a socket failed.
-26 Request to retrieve the output stream failed.
-27 Request to retrieve the input stream failed.
-28 Request to close the opening failed.
-29 Inadequate memory
-30 Specified margin exceeded.
-31 No SD card
-32 Unsupported file
-33 PDF printing trial period ended.
-34 Custom paper settings input incorrect
-35 Unspecified IP addresses and MAC addresses.
-38 Incompatible Template file and printer model.
-39 Model & template transfer incompatible
-40 Cover open
-41 Wrong roll type
-42 Interface unsupported
-43 A template with the specified key doesn't exist.
-44 Occupied
-45 Model incompatible with P-touch template printing
-46 Cancel
-47 Unsupported Device settings function
-48 Wrong parameter
-49 Internal device error
-50 Model incompatible with template deleting and retrieving
-51 Template doesn't exist
-53 Buffer full
-54 Tube blank
-55 Tube ribbon blank
-58 Length too short to print
---
Are you getting this error "Printing failed Printing error, Error_invalid_parameter"?
Are the badge printer and device connected via Bluetooth and are on the same WiFi network, but still won't print?
Follow these steps:
---
Do you have the incorrect labels?
Greetly is compatible with the Brother QL-820NWB or QL-820NWBc printers and with DK-1202 labels for the USA ONLY. Outside of the USA you will need the DK-11202 labels.
IMPORTANT: The sample labels shipped with the Brother printer are DK-2205. The printer will not respond unless the correct labels are used. <--
Still need help?
Click the chatbox or email us at success@greetly.com and let us know what error code you are getting and we will be happy to assist you. Our Client Support Agents are standing by to assist you.